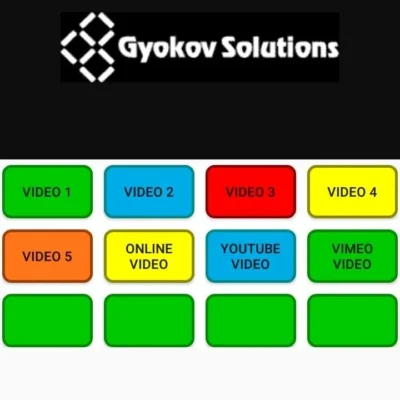 App Description
Video Board is a video board app for easy playing videos and pictures from different sources. You can play whole videos or just part of them. The videos could be:
– video, audio or image files from your device storage
– online video files using direct link URL
– YouTube
– other online video sharing platforms using their embedding option
You can create your own unique video board. There are different types of buttons for different playing options and you can control volume, speed, pitch and balance. Also file cropping and fade in/out is possible.
The app can be used for different purposes like:
– educational – musical instrument playing or language learning – assign different video clips to different buttons (or split one big clip to several clips using cropping) and easily access them on button click. Change speed and pitch to match your purposes.
– creating multi layer collages of videos, pictures and animated gif images
– fun – assign videos for different buttons and have fun playing them on different occasions.
App features:
– play custom video and picture files from your device storage or online videos from youtube, vimeo and other online platforms
– use different types of play (loop, start/stop on press etc…)
– dual display – show videos on TV or another screen
– multi layer image and videos – show picture and videos over videos
– adjust individual video volume, balance, pitch and speed
– use cropping for video
– fade in/out for video
– command buttons for pressing several buttons simultaneously
– load text script files for automation
– custom number of buttons
– change button position
– set crop intervals while playing file
– control volume, pitch and speed of videos
– control brightness and RGB colors of images
– export and import button configurations
– ping pong effect